Dogs are man's best friend, and cats are man's forever companion! If you're planning on a kitchen remodel, wouldn't it make sense to factor in your furry friends?! They're part of the household too, so don't forget to be inclusive! While our pets don't cook or do the dishes, homeowners (and pets) have found that pet-friendly kitchen designs have made homes more practical and a happier place for everyone. That's why we created a list of pet-friendly features to add to your kitchen remodel. Incorporate these ideas to make your kitchen purr-fect for the entire family!
Pull-Out Hidden Food and Water Dishes
Have you ever tripped on Fido's water bowl while walking around the kitchen? Besides it being dangerous, crowding up the space with food and water bowls never looks too appealing. When you're planning your kitchen remodel, we recommend asking your designers to incorporate a spot for your pet's food and water bowls. For example, you can use a cabinet to create a hidden meal center that can be easily pulled out for when your furry friend is ready for his meal! Your pet no longer has to get his bowl kicked around, and you get to have a gorgeous new kitchen remodel with no clutter!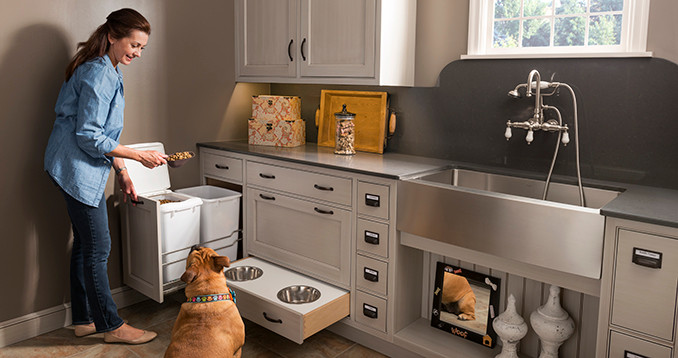 Laminate Flooring
With our pets walking around the entire house, you'll want to be careful with the type of flooring you choose. You won't want to select a flooring that gets easily scratched or gives your clawed one a tough time getting around. The best type of flooring for pet owners is laminate flooring. It's easy to clean and won't show scratches. You also won't have to worry about letting moisture linger for too long with this surface. This is ideal for accident-prone or water-loving pets! We also recommend going with a lighter color wood since darker woods will show the fur on the floor more easily. All of the benefits laminate flooring offers include:
Resists stains and moisture
Cost-effective for both big and small spaces
Scratch-resistant
Easy to clean and maintain
Rugs or Runners
If your pet likes to hang around and relax in the kitchen, we recommend putting rugs or runners in your kitchen! Place them in places where you don't mind them curling up and relaxing. This will help keep them in sight but not within your feet while cooking. It will also protect your floors and prevent your wild ones from slipping while running around. While laminate floors are pet-friendly, they can be slippery for little paws. While selecting your rugs/runners for your kitchen remodel, we recommend going with material that can be easily cleaned or colors that will conceal fur and stains.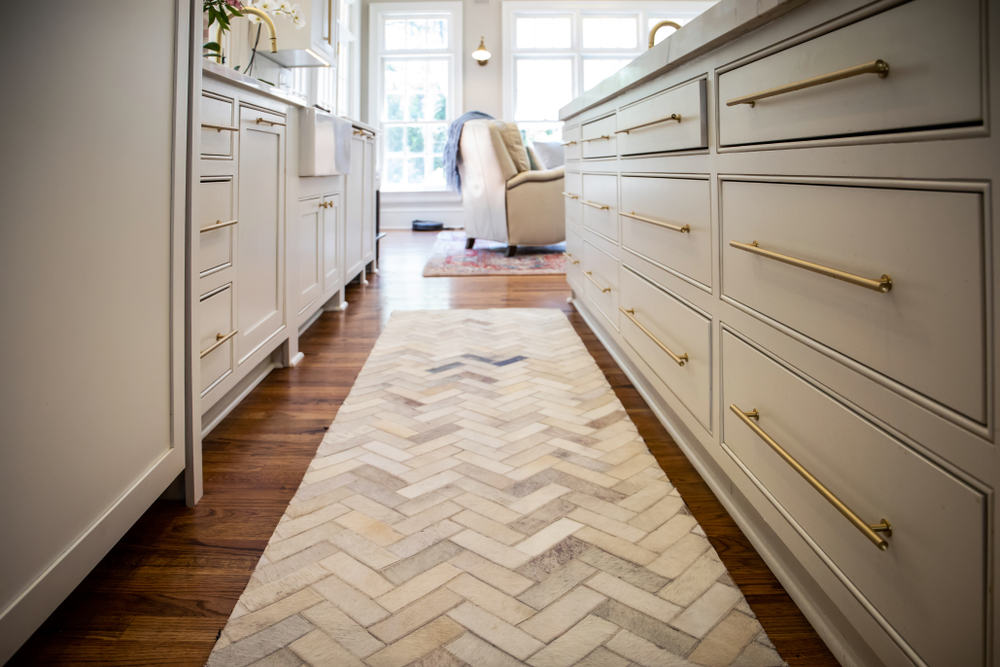 Kitchen Remodel Considerations for Pets
While selecting all of the elements you want in your kitchen remodel, we recommend avoiding designs or hardware that can pose any danger to your pet. For example, while selecting kitchen hardware, stay away from anything with sharp edges. Choose knobs over pulls to prevent any paws from getting caught. After you've completed your kitchen redesign, you'll surely want to keep it looking new. However, many cleaning products aren't pet-friendly. So take the time to look over all of your cleaning products to make sure you only use the ones that are "pet-friendly."
The best kitchen features aren't always about the latest trends in styles. Sometimes it's the elements that make your kitchen more efficient and structured towards your household's specific needs that count the most! If you have a pet or two, factoring them into the equation of your kitchen remodel will be something everyone will be grateful for—even your pets! We hope this list of pet-friendly features to add to your kitchen remodel helped you see how you can make your kitchen pet-friendly! If you're looking for a kitchen remodeling company to create a kitchen that's perfect for both you and your pets, give Noma Design & Build a call today at (858) 373-9902, or click here to fill out the quick contact form on our website!