Little details such as wallpaper or colors that have gone out of style, can cause a bathroom to feel dated and displeasing. Most of the time, the entire layout might need a total remodeling. While upgrading a few features can help improve your bathroom's look, adding functionality, storage, and function can make your bathroom feel like an in-home sanctuary. Besides enhanced comfort, usability, and aesthetics, bathroom remodels should also help increase the value of your home. In today's blog, we will be going over 5 bathroom remodeling ideas that increase the value of your home.
1. Change the Tiles & Flooring
Changing the shape, size, color, and design of your tiles can improve the style and function of your bathroom. There are hundreds of styles to choose from—which can make it difficult to make a decision. That's why we recommend looking through magazines and browning bathroom images online to get inspiration and select a look that you love.
Because safety is important, you should consider using tiles that prevent slips and falls. Extra grouting can also help resist mold, humanity, and stains.
2. Upgrade Your Toilet: Go Green
With the never-ending droughts California is constantly facing, deciding to go with water-conserving products is a great way to enhance your bathroom. Eco-friendly or low-flow toilets are a great way to help your household save more water. Low-flow toilets will help you save both water AND money every time you flush. Additionally, the value of your home will also go up since most people are looking for ways to decrease their carbon footprint and protect the planet.
3. Don't Forget About Ventilation!
Mold and mildew are a bathroom's worst nightmare. Consider adding a window or ventilation system to help draw out moisture and humidity. If one of your goals is to bring in more natural light, we recommend adding a window. It'll give you bathroom ventilation and a brighter interior. If you don't already have a bathroom fan, we highly recommend adding one. Even if you have a window, you can use it all year long—including the winter, when it may be too cold to open the window.
4. Maximize Bathroom Storage
Storage—especially in a small bathroom—is a HUGE bonus! Having proper storage can make even the tiniest spaces feel serene and well-organized. You can consider adding shelving or built-in cabinets for storing everyday items and decluttering your countertop. It'll help boost your bathroom organization and make the most out of the bathroom space you have. You can incorporate a mixture of open and closed storage as it will allow you to select which toiletries you want on sight and which ones you want put away.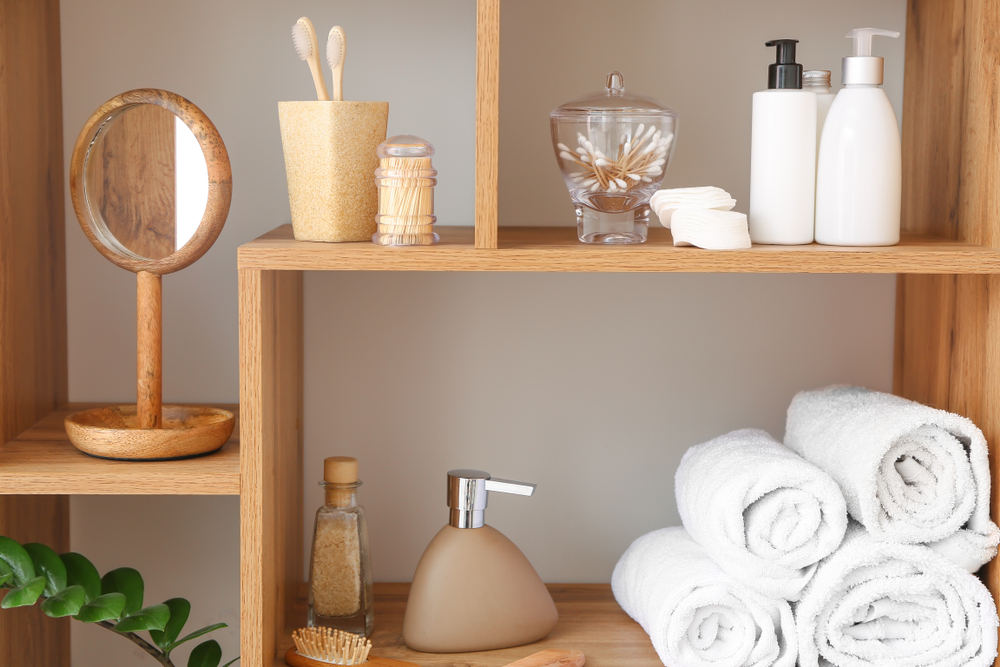 5. Upgrade Bathroom Lighting
Did you know that lighting can dramatically change the mood of your bathroom space? That's right! From white light to golden amber light, the lighting will play a significant role with the overall feel of the bathroom. Incorporating better lighting near the vanity is especially important as it helps you get a better look of yourself in the mirror while you're getting ready in the morning.
You can adapt the lighting to your choice of lifestyle. For example, if you routinely take long baths for relaxation, dimmer light might help create a more peaceful mood. But if you enjoy trying new types of makeup, you may want to install a wall sconce on the sides of your mirror for the most flattering light. Or you can consider dual-light bathroom fans with Bluetooth that allow you to listen to music while in the shower.
Remodel Your Bathroom with Noma Design & Build
When it comes to bathroom remodels, updating these mentioned upgrades will enhance the comfort, look, and value of your bathroom. While you can tackle these projects separately, it is more budget-friendly and efficient to remodel your entire bathroom in one go. We hope this list of bathroom remodeling ideas that increase the value of your home helps! If you're ready to make your dream bathroom a reality, give Noma Design & Build a call at (858) 373-9902 or click here to get started!