Renovating your bathroom is a great way to add value to your home and create a spa-like oasis where you can relax and unwind after a long day. Unlike other places in the home, the bathroom is one of the few spaces you can have all to yourself. If you're looking to create a peaceful and rejuvenating space, here are 5 renovation ideas that will turn your bathroom into a spa.
Oversized Rain Shower Heads
A shower is a great way to start or end your day, and an oversized rain shower head can take that experience to the next level. Rain shower heads are designed to mimic the feel of rainfall, and they can provide a gentle, soothing flow of water that's perfect for relaxation. When choosing an oversized rain shower head, look for one that's at least 8 inches in diameter. This will ensure that the water is distributed evenly and covers your entire body. You may also want to consider a shower head that's adjustable, so you can customize the water pressure and flow to your liking.
High-Quality Tile
Tile is an essential element in any bathroom renovation, and high-quality tile can really make a difference in the look and feel of the space. When choosing tile for your bathroom, consider using natural stone or porcelain. Natural stone tile, such as granite or marble, can add a luxurious and elegant touch to your bathroom. Porcelain tile is durable, easy to clean, and comes in a wide range of colors and patterns. You can also mix and match different tiles to create a unique and interesting design.
In addition to the type of tile you choose, consider the size and shape of the tiles. Large tiles can create a sleek and modern look, while smaller tiles can add texture and interest. And don't forget about the grout! Choosing a contrasting grout color can really make the tile pop!
Next-Level Lighting
Lighting is an important but often overlooked aspect of bathroom design. In a spa-like bathroom, lighting should be soft and soothing, creating a relaxing ambiance. Consider installing a dimmer switch so you can adjust the lighting to your liking. You can also add sconces or pendant lights to create a warm and inviting glow. And don't forget about natural light! If possible, add a window or skylight to bring in natural light and create a sense of openness and calm.
Relaxing Soaking Tub
A relaxing soaking tub is a must-have for any spa-like bathroom. There are many different types of soaking tubs to choose from, including freestanding tubs, drop-in tubs, and corner tubs. When selecting a soaking tub, consider the size and shape of your bathroom. You'll also want to think about the style of the tub and the materials it's made from. Cast iron and acrylic are popular choices for soaking tubs, as they're both durable and easy to clean. To take your soaking experience to the next level, consider adding jets or a built-in heater to keep the water warm. And don't forget about accessories like a bath tray for your book or a candle holder for added ambiance.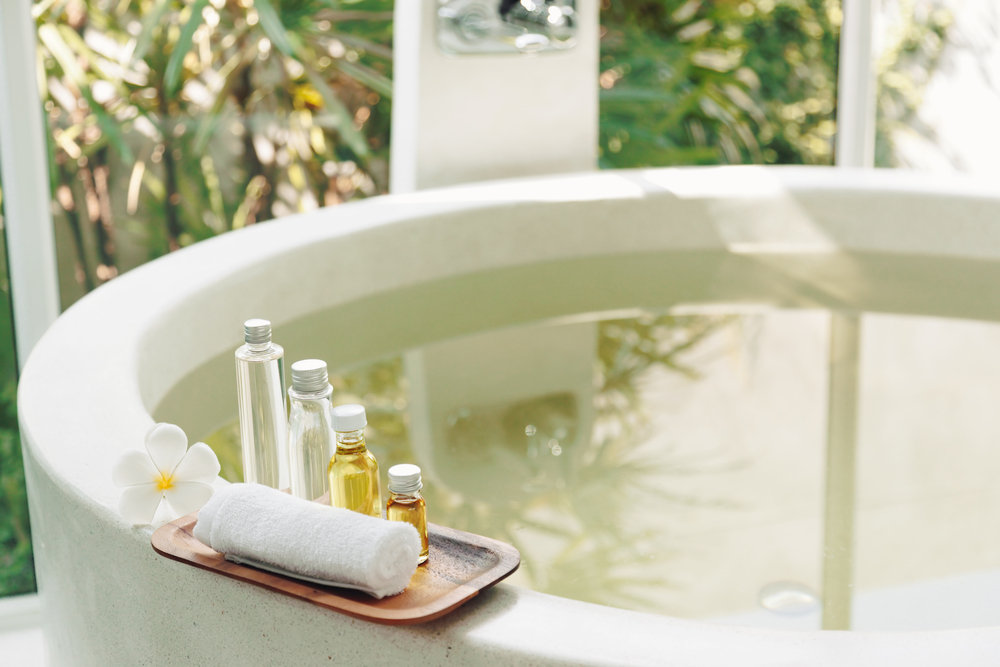 Ample Storage
A cluttered bathroom can quickly ruin the relaxing ambiance you're trying to create. That's why ample storage is an essential element of any spa-like bathroom renovation. Consider adding built-in storage solutions like shelves or cabinets to keep your bathroom organized and clutter-free. You can also incorporate storage into your vanity or choose a vanity with drawers or cabinets. And don't forget about towels and other bathroom essentials! Consider adding a towel warmer or a basket for extra towels to keep your bathroom feeling cozy and inviting.
In conclusion, renovating your bathroom can be a great way to create a spa-like oasis in your own home. With the right elements, making your dream bathroom oasis a reality is possible. Ready to transform your bathroom into a magical relaxation retreat? Give Noma Design & Build a call at (858) 373-9902 or click here to get started!